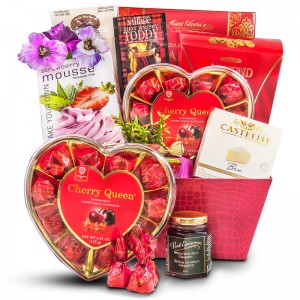 Gift Baskets, Cakes, Flowers by Gourmet Gift Basket Store
When you are looking for a cool Valentine's gift for him or something truly romantic gift for her, we've collected the best selection of Valentine's Day baskets and romantic gifts. Celebrate the Happiest Holiday that will surely bring even more joy into your life.
What are you in the mood for? Gorgeous chocolate gift basket, beautiful romantic flowers, the sweetest Valentine's cakes, or Elegant silver heart jewelry? Pick one or more gifts as your heart's desires. Celebrate your wonderful relationship together, we know it is hard work after all! So we made it convenient for you by gathering all the best Valentine's day gifts for an easy one stop shopping.
Each of our artisan chocolate baskets are handcrafted with deliciously creamy and sweet chocolates and amazing treats to keep the love hot an exciting.
Why our Valentine's Day Gift Baskets for Men are so popular?
Our creative designer team takes pride in selecting the tastiest gourmet treats inspired by artisan chefs and bakers. The items they include in our gift baskets are award winning products from specialty food competitions. Weather it is a English gourmet cheese basket for the next morning, a special selection of midnight snacks to indulge on, or a gorgeous red velvet or German chocolate cake you select, we promise you will get a rave review!
"Thanks very much. The basket was full of delicious goodies. The selection was perfect and the whole family got to enjoy it!. It was a pleasure doing business with you!"
D.N.
Gift Baskets for all occasions and Corporate Gift Baskets
Our gourmet gift baskets are most rated in the food lovers community. Gourmet ingredients include: Godiva, Cherry Queen, Lindt Lindor, Truffles, dark chocolates, cheesecake flavoured chocolates, specialty cookies, Martzipan heart shaped chocolates, cheese, crackers, dip mix, crab meat, cheese pleaser, chocolates, tea, coffee, fruit, pasta sauce and more gourmet foods in gift baskets. Find gift baskets with special porcelain figurine of angels, Webkinz/WarmBuddy plush toys, collectable mugs and more! These gift baskets can make the best gifts for corporate and offices all to enjoy around the seasons. They also are the best gifts to give for Valentine's Day, Christmas, Birthday, Corporate, Thank you, New Baby, Wedding Anniversary and More!
Gourmet Cakes
Our newest gift item to join our site: gourmet cakes and bakery delicacies. For those who has a sweet-tooth and for group gatherings, a freshly baked cake may be a great way to enjoy the occasion. In times when traveling may not be possible, sending a gourmet cake for Valentine's Day may let them know you  care and remembered them. Cake gifts are best for all occasions, Valentine's Day, Easter, St. Patrick's Day, Christmas, Birthday, New Baby, Corporate and More! You can choose from cheese cakes, black forest cakes, chocolate chip cakes, chocolate fudge birthday cakes, chocolate vanilla cheesecake, red velvet chocolate cakes and more! Find them all on our Bakery/Cake page.
Flowers 
Our newest gift item to join our site:  fresh cut flowers and bouquets. Sending flowers may be right for all occasions. Weather it is for Valentine's Day, Easter, St. Patrick's Day, Christmas, Corporate, Offices, New Year's, Birthday, Mother's Day, Thank you, Congratulations and for all occasions! A fresh cut bouquet of flowers with a message card can bring happiness, joy, romance, love, appreciation, sympathy and a big thank you gesture. Find the most colorful arrangement of flowers on our Flowers page.
Gifts for all occasions
Find your perfect online gift for every occasion – for every special people in your life and you don't even need to leave the comfort of your living room. Search for occasions such as: Thank you, Birthday, Sympathy, Get well soon, Baby, Wedding, Anniversary, New Home, Client Appreciation, Corporate, Corporate Convention, Mother's Day, Easter, St. Patrick's Day, Father's Day, Canada Day, 4th of July, Congratulations, Funeral Gifts, Romantic, Thinking of you, Christmas, New Year's, Halloween, Thanksgiving.